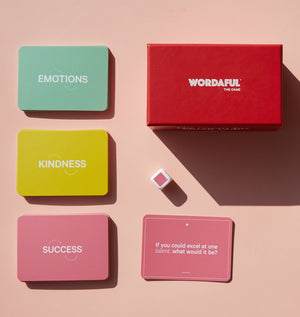 WORDAFUL The Game
Sale price Price $35.00 Regular price
WORDAFUL The Game:
No Room For Small Talk
We are starving for connection more than ever. So where do we begin? We can start by having real conversations that connect us, allowing our words to act as food for the soul and by asking questions and truly listening to the answers. 
When we share our innermost thoughts, we create intimate bonds. This game allows us to see ourselves in each other's experiences. It shows us that we are not alone in our feelings. We begin to recognize our connections, not just our differences. Our words allow us to feel heard, seen and understood.
There are no correct or incorrect answers. There are only connections.
Dimensions: 4.74" 2.75" x 2.26"

Includes 130 game cards, die, rules

For 2 or more players